Donkey Kong Redux
A downloadable game for Windows
When I was 10 years old I got a C64 and thought it could be programmed in natural language. I literally wrote something like:
"I want a game where I am a plumber who needs to avoid barrels which are launched by Kong by jumping them. I need to reach the top of the screen, etc..."
Unfortunately I only got a Syntax error in exchange of my passionate description of the game.
35 years later I found the will to try it again and this time things have gone a bit better.
With this project I am willing to replicate the behaviour of the original Donkey Kong by Nintendo.
I tried to simulate the game logic and timing spending multiple hours watching videos of the original game.
Game copyrights belong entirely to Nintendo.
As a Nintendo's games lover I wanted to express my tribute to the Mario/Donkey Kong serie and to game designer Shigeru Miyamoto.
Game programming is now completed with four brand new levels added on the top of the 4 original ones.

Current version: 1.8.0
Changelog:
ver 1.8.0
- Fixed bug with DirectInput gamepads
- Fixed bug with Windows taskbar not showing game window
- Improved ladder's climb routine
- Added WASD to control player
- Added Splash screen
ver 1.7.0
- Added level 6
- Added new Intro at level 5
- Name entered in the High Scores is cached (Redux Mode only)
- On level 6, destroyed bombs increase score
ver 1.6.0
- Fixed bug with Mario jump routine
- Fixed bug with extra life at 7000 points
- Added level 7
- Added support for DirectInput gamepads
ver 1.5.0
- Normalized sounds effects
- Starting level can now be selected in Redux mode
Game features:
- Game is designed at its original resolution of 224x256 pixels at 60 FPS
- The 4 original levels + 4 New levels
- Game logic, controls, collisions
- Difficulty increases each time player completes all levels
- Local score saving (it saves scores in clear ini file)
- Online score saving
- Animations and scripted sequences among levels
- Enemies (Barrels, Fires, Springs, Cement Pies, Fireballs, Fireghosts)
- Full Sounds and Music
- Joypad support
- Arcade/Redux Mode


Arcade Mode is meant to play the original 4 levels in the same order as in the Jap version of DK. Name and Score are saved only if higher than 5th place.
Redux Mode features 4 new levels (5,6,7,8). Starting level can be selected from whichever one has already been played. Name and Score are always saved.
Play instructions
Game Controls
Arrow Keys/WASD/Joypad Left stick: Movement
CTRL/Space/Enter/Joypad B0/B1: Jump
CTRL/Space/Enter/Joypad B0/B1: Start Game - Skip Cut Scenes
P: Pause Game
ESC: Exit Game
M: Toggle FPS display on screen
I: Toggle image color interpolation (Blur filter)
B: Toggle Vsync (Disabled by default)
L: Toggle Alternate Sync Method (Enabled)
F: Toggle FullScren mode (Enabled by default)
| | |
| --- | --- |
| Updated | 24 days ago |
| Status | Released |
| Platforms | Windows |
| Rating | |
| Author | 80s Arcade Games |
| Genre | Platformer |
| Made with | GameMaker: Studio, Paint.net |
| Tags | 16-bit, 80s, Arcade, donkey, donkey-kong, free, nintendo, Pixel Art, Remake |
| Average session | A few minutes |
| Languages | English, Italian |
| Inputs | Keyboard, Gamepad (any) |
Install instructions
Extract the zip file and run the DonkeyKongRedux_180 executable
Comments
Log in with itch.io to leave a comment.
Best DK remake I've ever played...
Thanks John, you must really try the new level which I am going to release as soon as I find the time to complete it.
Donkey Kong meets Pacman and Bomb Jack :)
Interesting, bombjack is a personal favorite in the arcades and still playing today. Keep on the retro max mash up each level will be a pleasure to play. Art by crvnjava69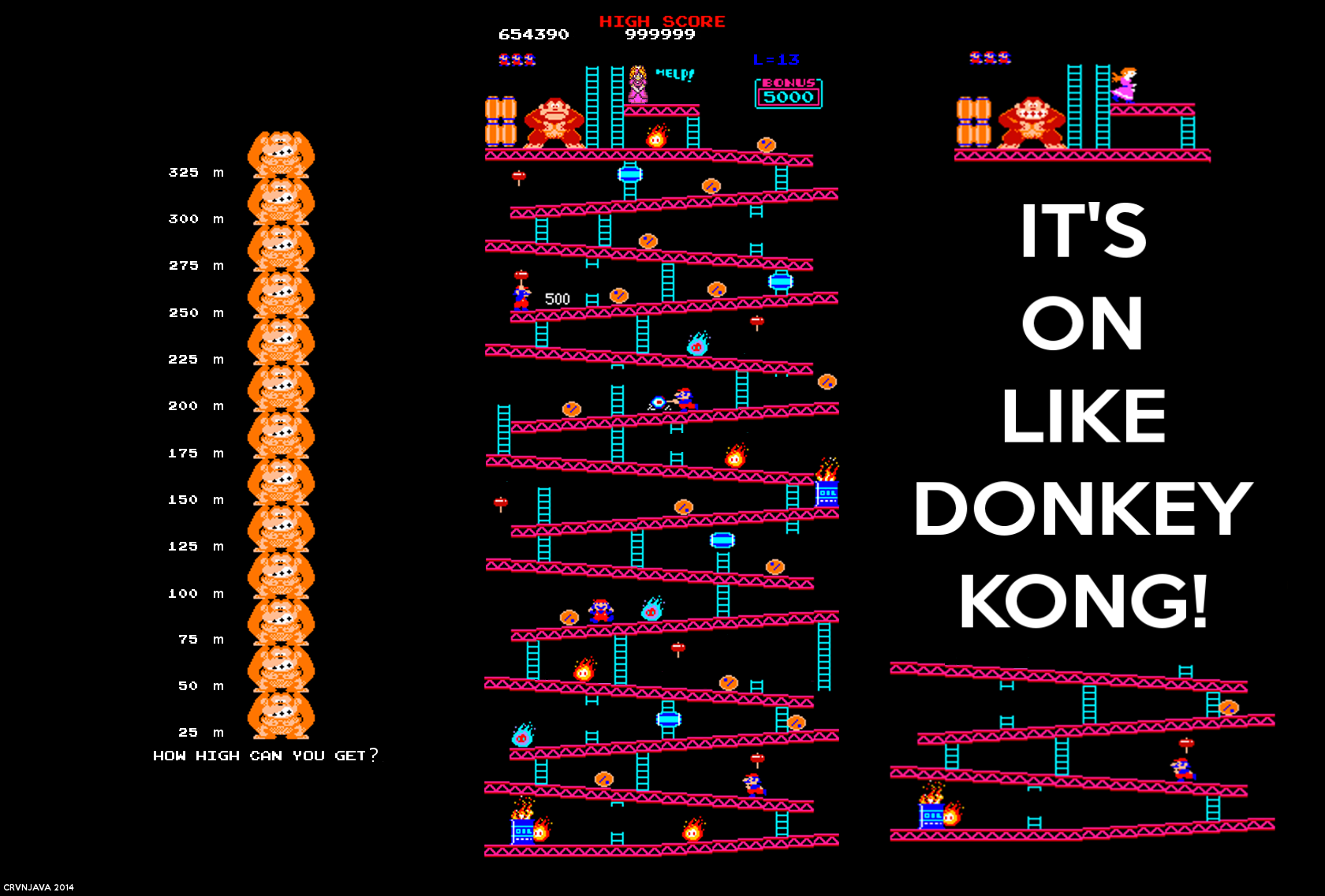 Has the new level been included in the v1.50 final version?
Yes, it's level 8, but u will need to 'unlock' each level from 1 to 5 to play it (after you complete a level it becomes unlocked, meaning you can chose to start from whichever u want each time you start a new game)
(Level 6 does not exists yet, level 7 is almost completedm the screenshot below is from the level editor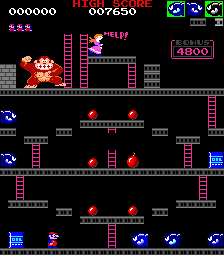 I got to level 6 last night on a quick video run of v1.50
amazing classic game of an ape carrying endless amount of barrels to prevent the plumber to save the damsel in distress. hope you make some classic games more interesting. my favorite classic games are space invaders and galaga.
Hi there, once finished with this (very close at this point) I am thinking to create some brand new levels, but the idea is to keep the same style. Talking about other classic games, many many years ago I also re-programmed in full Phoenix, it can be found and played online.
Galaga is also a good candidate for the future. My idea is re-program 4-5 classic games and for each one add a new section with new levels and/or new game modes, work in progress ;-)
Have a try at the latest build of Donkey Kong, I just added collision between hammer and barrels and a few sound effects